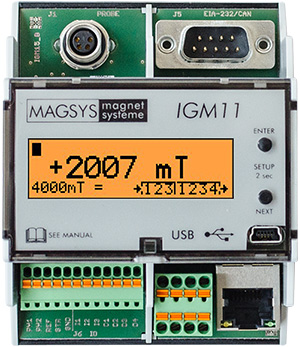 Complete functionality for industrial application. Data storage on PC or control via standard interfaces. Digital 24 V PLC interface.
Application
The industrial gaussmeter IGM11 is used to measure magnetic DC and AC fields. The measurands are flux density in Tesla or Gauss and the field strength in Amps per meter.
It has a high measuring accuracy with several built-in features.
Function Description
The IGM11 standardly measures with a compact axial probe (option). Also available: transversal probes and special probes according to your requirements. All probes are equipped with EEPROMs for identification, parametrization and linearization.
The measuring range is up to 4.5 (optional 10) Tesla for the flux density and 3800 (option 8500) kA/m for the field strength respectively. The resolution is down to 1 µT or 1 A/m.
Further features are peak hold (positive and negative), linearity adjustment, null balance and automatic limit value monitoring. The measuring values can easily be visualized and stored on the PC or a control. Service and control functions are also available with the software.
The device can be set up via the control keys or via a Windows program using the USB interface.